Services
The Inspection
Our Home Inspection Reports meet and exceed the Standards of Practice established by the State of North Carolina.  (Please click on the following link for the most up to date NC Standards of Practice as amended in the Home Inspector Licensure Act (pg 18 – 25) on October 1, 2018. NC Home Inspector Licensure Act
Your 704 Home Inspection will include the following system and component review:
Foundations, grading, drainage, roof and roof drainage systems, exterior walls and trim, chimney, damper and flashing, water penetrations garages, patios, porches, decks and walkways; heating and cooling systems, gas leaks, ventilation systems, insulation and vapor barriers; interior floors, walls, ceilings, windows, doors, stairways, railing, balconies, smoke detectors; plumbing system, attic, basement and crawlspaces; electrical system, built-in appliances and cabinets and more!
If there is anything you are particularly concerned about, please let us know.  We want to make sure all of your questions are answered!
* Radon and Termite Inspections Available*
Reporting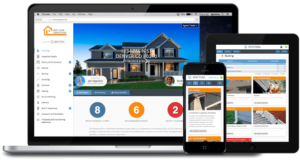 Clean and intuitive, reports are easy to read on web or mobile devices.
Reports prominently display images and videos and we write our base templates as concisely as possible.
Sidebar navigation and links let you find information you need quickly.
Reports can be filtered by high priority items, all deficiencies or the full report.  You get to choose what you want to see.
Interactive photos allow you to view any photo in full-screen to examine hard to see details.
Visually appealing PDF output for those preferring a different approach or printable version.
Service Fee
House Size                                  Fee                                                     House Size                              Fee
0 to 1,500 sqft                 Starting at $325.00                                      2,501 to 3,000 sqft       Starting at $400.00
1,501 to 2,000 sqft          Starting at $350.00                                      3,001 to 3,500 sqft       Starting at $425.00
2,001 to 2,500 sqft          Starting at $375.00                                      3,501 to 4,000 sqft       Starting at $450.00
The above fees are for approximate considerations.  Actual fees determined at time of scheduling.
Age of the home, crawlspace/basement, foreclosure and other complicating factors may increase fee.
Call or email to request a quote or schedule an appointment.  
Radon and Termite Inspections available with Home Inspection.  Additional fees apply.